You may have heard that your calling is your assignment from God and your identity is Christ. This statement is biblical on the surface, but is also potentially misleading.
As a Christian counselor, I work hard to help people understand their worth. Self-esteem is biblical.
The statement "Your identity is Christ" is ambiguous. Couldn't this mean a new age idea that you're an anonymous drop in a bucket? You are "one with god?" You have no identity, but must live out Christ's identity? When you become a Christian, do you lose the sense of who you are? No!
God designed you so you can't lose your identity. You're a one-of-a-kind unique creation. Your identity describes who you are. When you become a Christian, you identify with Christ, but your don't become Christ. Your identity has a new meaning, but you remain a distinct person. For example, as a Christian, you're a child of God. God is your loving father. But that implies you're a son or daughter.
Consider these four dictionary definitions (compiled from yourdictionary.com/identity and dictionary.com/browse/identity) that capture the essence of identity. Identity is:
"Who you are." This definition encapsulates what I mean by identity.
"The set of characteristics by which you are definitively recognizable." This definition clarifies that we can use identity to distinguish you from others.
"Your unique characteristics held by no other person." This definition clarifies that having an identity means you have something that no one else will ever have.
"What remains the same, constant, persisting over time, under varying circumstances." This definition provides the insight that identity must be permanently yours, or else it really isn't part of you.
Look at this Venn diagram to see that you have shared attributes, but you also have attributes exclusive to you.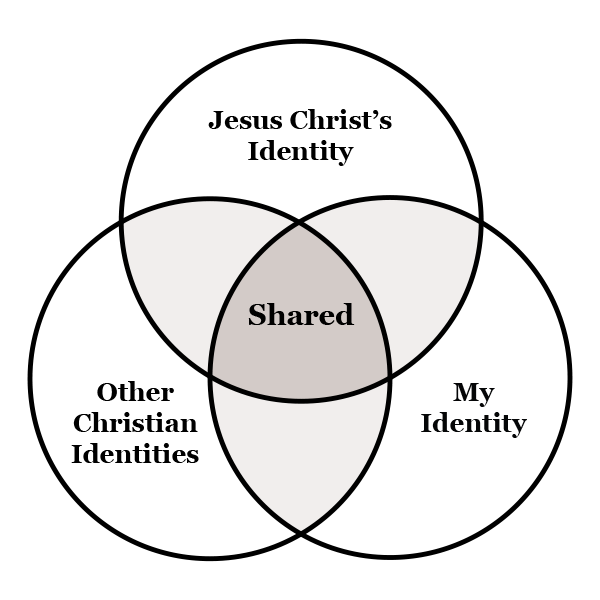 Spiritually speaking, a lot is going on inside of you. As Christian, you have the Holy Spirit dwelling within you. You also have the work of Christ applied to your life.
If you're a Christian, you have an agreement with God, that the Holy Spirit can take up residence with you. You share the same space. Although you are dependent upon God for your spiritual health, you remain a distinct person capable of making your own decisions, and behaving with your own personality.
Take for example Galatians 2:20. This verse is saying that, spiritually, you died to sin because of your acceptance of Christ. Whatever Christ did, God considers you to have done it too. Christ sustains your life by faith.
I have been crucified with Christ. It is no longer I who live, but Christ who lives in me. And the life I now live in the flesh I live by faith in the Son of God, who loved me and gave himself for me. Galatians 2:20 ESV
"I no longer live" doesn't mean that you no longer have an identity. This means that you yield to Christ who can sustain your spirit. You allow Jesus to do for you want you can't do for yourself. You're a distinct being, having your own identity. Your identity is powered by God and the Holy Spirit is working to make your spiritual character pure like Christ.
But if Christ is in you, although the body is dead because of sin, the Spirit is life because of righteousness. Romans 8:10 ESV
The goal in life isn't to become a Jesus clone. I have to break the news to you, you'll never be God. Instead, God wants you to be a distinct personality that demonstrates the same character as Jesus.
Becoming a Christian should enhance your distinctiveness, not detract from it. Put another way, others will appreciate Jesus more when they see a distinct person exhibiting his character than if they see a generic person trying to show love. God is all about cooperation or co-operation. He wants diversity and unity. God gets all the glory, but I think God delights in seeing himself reflected in many different identities.