In today's world even Christians struggle with understanding who they are. Matt Pavlik wrote Confident Identity: Christian Strategies to Forget Who You Aren't and Discover Who You Really Are to provide a clear guide for Christians to grasp the full significance of their identities. A Christian's identity is God's greatest gift only when it is opened and explored.
"Confident Identity is a conversation-starter, a thought-generator, and a game-changer," says Licensed Professional Counselor, Jessica Buczek. "Days after reading its final pages, I found myself deliberately and intentionally contemplating my sense of purpose. Combining Scripture, clinical theories, and practical tools, Matt has thoughtfully crafted a beautiful resource filled with an abundance of insightful questions, constructive ideas, easy-to-read charts, and meaningful activities and tests which allow an individual to thoroughly explore, expand, and exercise their identity."
Your identity is everything. If you understand who you are, then you'll have purpose and you'll know how to live your life. A lack of identity is at true epidemic proportions today because people search for meaning to the exclusion of their Christian origins. In Confident Identity, Pavlik enlightens Christian readers to their spiritual identities as well as their unique personalities. God doesn't make duplicates. He crafts each individual for a specific purpose.
Confident Identity: Christian Strategies to Forget Who You Aren't and Discover Who You Really Are (paperback, 230 pages, ISBN 978-0986383151) is available on Amazon for $21.95.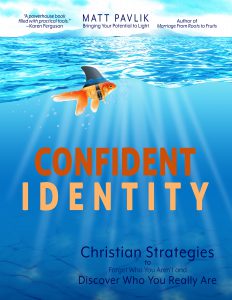 About the Author:
Matt Pavlik, Licensed Professional Clinical Counselor, published his first book, Marriage From Roots To Fruits, in 2015. He has counseled individuals and couples at his Christian counseling practice, New Reflections Counseling, since 2003. He completed his Master of Arts in Clinical Pastoral Counseling from Ashland Theological Seminary and his Bachelor of Science in Computer Science from the University of Illinois. Matt and his wife Georgette have been married over 15 years and have four children.
About the Publisher:
Christian Concepts (an imprint of New Reflections Counseling, Inc. located in Dayton, Ohio) publishes books that help Christians reach their potential. For further information, visit ChristianConcepts.com.